Our new bereavement dog, kelsie!
In 2020, we helped expand the bereavement program at OhioHealth's Kobacker House by sponsoring a dog that works with both youth and adult bereavement groups, and individual counseling sessions. Kelsie is a Goldendoodle with the sweetest and friendliest personality! We know she brings countless smiles to patients and families during very challenging times, and we hope her presence on the bereavement team continues to have a huge impact for many in need.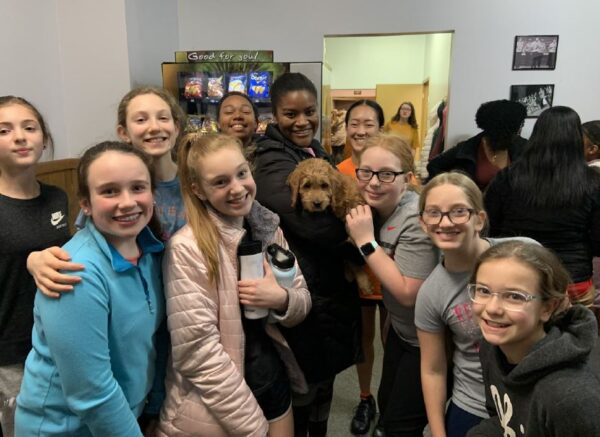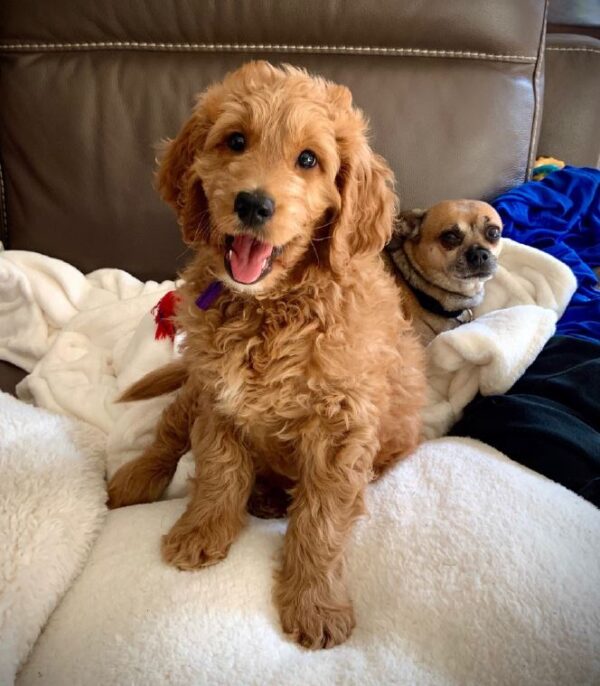 ADVANCED NURSING SCHOLARSHIP AWARDEES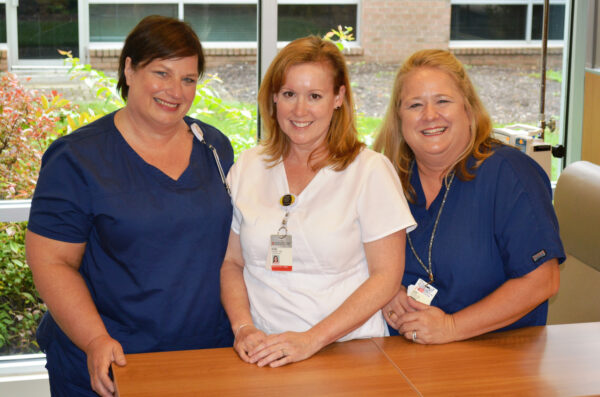 In 2015, the Patricia A. DiNunzio Memorial Scholarship program was established for nurses to receive money for advance nursing degrees. Every year, 2 to 3 Patricia A. DiNunzio Memorial Scholarships are awarded to outstanding and compassionate staff members of OhioHealth and The James Cancer Hospital. The ideal candidate cares for cancer patients and is dedicated to cancer advocacy and family-centered principles. Recipients are selected by the DiNunzio Family and representatives from Ohio State University and OhioHealth nursing leadership. 
Here are our current and past awardees. We are very proud of them!
2022: Kari Gupta (OhioHealth) and Amber Kurzen (OSU)
2021: Amber Holderby (OhioHealth), Priscilla Outlaw (OhioHealth), and Lindsey Riley (OSU)
2020: Tiwana Simpson (OhioHealth), Delaney Spencer (OhioHealth), and Kymber Bocook (OSU/James)
2019: Katherine Ta-McIntyre (OSU), Shireen Daugherty (OSU), and Cassandra Nickell (OhioHealth)
2018: Brenda Hamer
2017: Alexander Wilson
2016: Karen Meade
2015: Amanda Wallace and Jodi Garcia (pictured)
Research Funding and Genetic Testing
We help fund research by Ohio State University's Jeffrey Fowler, MD. Dr. Fowler has studied provider "burnout" in healthcare workers in the fields of obstetrical and gynecological cancers over the past 15 years. In 2002, Dr. Fowler and his colleagues observed a moderate-high to high level of burnout in 42.9% of the chairs of academic departments of obstetrics and gynecology. Major stressors noted by participants are budget deficits and loss of key faculty.
In 2019, we funded a genetics assistant for The James Cancer Hospital Gynecology Oncology program to help contact families of ovarian cancer patients who never had genetic testing and to increase access to care. In the first month of having this person on-site we increased the number of patients seen by 50% and this continued for the duration of their employment. We also conducted a traceback program through which we contacted every prior patient with ovarian cancer that had not been given the opportunity to have genetic testing from 2006-2016. Almost 600 patients fell into this category and over 400 of them sadly passed away during the time since they were treated. 
Through the support from the Runway to Awearness, we were able to write letters and make phone calls to surviving family members of these patients and offer them the opportunity to have genetic testing themselves. While many had already had testing or were not interested (which was disappointing), many found the conversation to be helpful and it underscores the importance of having these conversations with patients and families at the time of diagnosis to try to keep relatives of our patients from facing the same diagnoses. The genetics assistant left for graduate school right before COVID-19 hit in 2020 and the position has not been filled at this time. 
RENOVATIONS AT JAMESCARE MILL RUN
In the five years between her ovarian cancer diagnosis and her passing in June 2014, Pat DiNunzio spent an immense amount of time at Ohio State's JamesCare Gynecologic Oncology office at Mill Run. The Patricia A. DiNunzio Ovarian Cancer Fund enabled significant upgrades for Ohio State University's JamesCare at Mill Run, including a remodeled break room that offers a peaceful respite for staff and provides easier access to the patient care area. The fund also purchased 32-inch flat screen televisions and movies for each chemotherapy chair.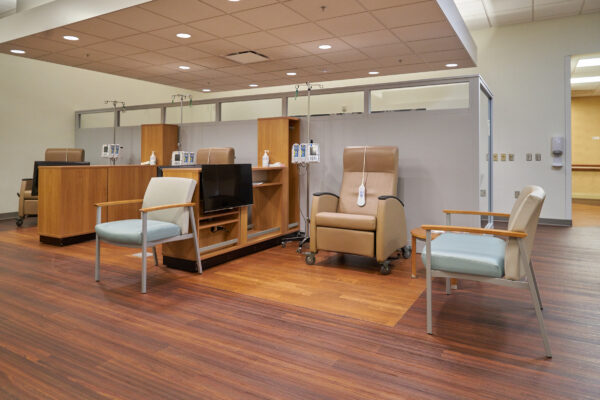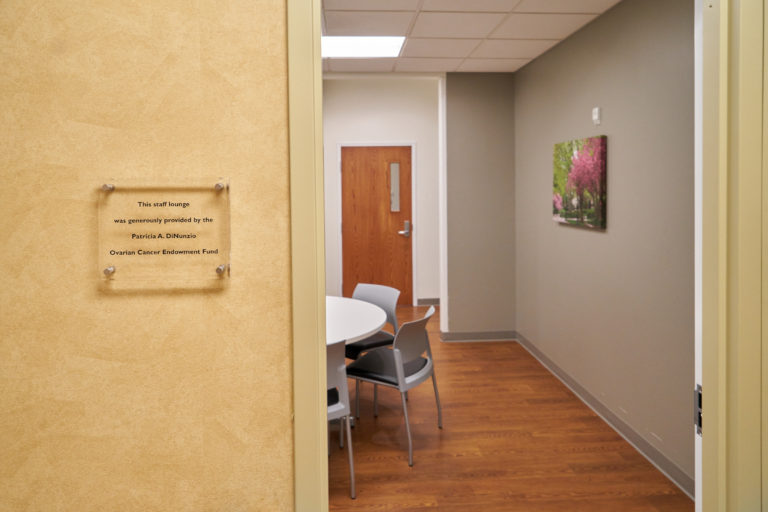 Increased Patient Comfort
A common side effect to chemotherapy is feeling cold due to a reduced number of red blood cells (anemia) carrying oxygen to cell tissues. With the comfort and the needs of the patient in mind, the Patricia A. DiNunzio Fund purchased blanket warmers for each chemotherapy chair. The Fund also connects patients to holistic treatments known to reduce stress and to increase relaxation such as Reiki and Urban Zen.
We continue Pat's tradition of providing comfort bags to new patients containing must-have items for easing the effects of the treatments. Each patient at JamesCare Mill Run receives a black tote filled with eye shades, lip balm, notebook and pen, patient education pamphlets, hand lotion, hand gel and a magnet.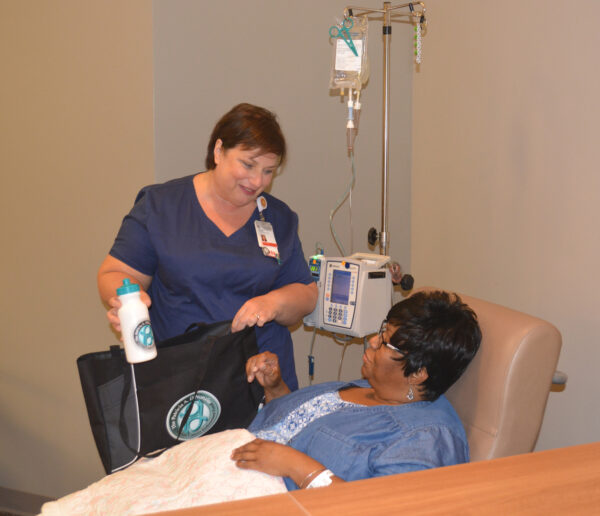 In 2018, the Patricia A. DiNunzio Ovarian Cancer Fund sponsored a mile marker at the Memory Mile benefiting OhioHealth's hospice program. Anamarie DiNunzio Rayburn also serves on the OhioHealth Developmental Board as a trustee. End-of-life care provides a sense of comfort for patients and eases the struggles faced by their loved ones.